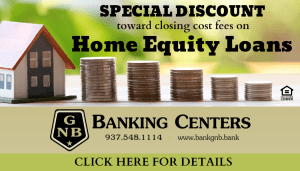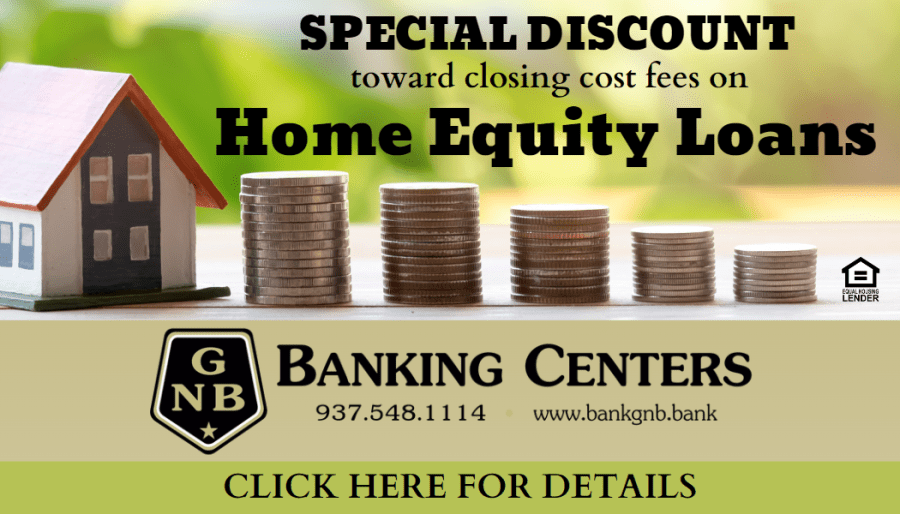 GREENVILLE – Greenville Senior High School held its annual Winter Sports Awards night in the high school gymnasium before family, fans and friends.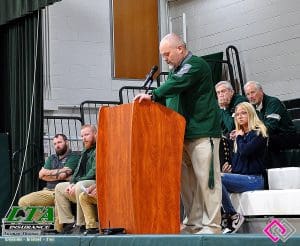 "The Winter Sports Awards is a good opportunity for us to recognize all of our winter athletes between boys and girls basketball, wrestling, swimming, boys and girls bowling and gymnastics," said Greenville Athletic Director, Aaron Shaffer. "It's a busy season and it's nice to have an opportunity to recognize our kids – congratulate them on hard work for a long season. The winter season starts back in October for the girls basketball and the rest of them start in early November."
"We want to wish our seniors good luck in their future endeavors and we look forward to what our underclassmen can do in the future," Shaffer stated.
MIAMI VALLEY LEAGUE FIRST TEAM AWARDS
BOYS SWIMMING
Caden Lecklider – 500 yd.
Freestyle
GIRLS BASKETBALL
Skylar Fletcher
MIAMI VALLEY LEAGUE SECOND TEAM AWARDS
Caden Lecklider – 200 yd.
Freestyle
WRESTLING
Andrew Winner – 285 lbs.
ACADEMIC TEAM
Carson Pope
WINTER SEASON
SCHOLAR ATHLETES
Reese Addington
Adalynn Arnett
Isabel Badell
John Barr
Thomas Barr
Avery Baumann
Jeffrey Boltin
Trinity Bowling
Eric Brenner
Maelyn Bruner
Rebekah Bunch
Josie Camacho
Elizabeth Cannon
Jack Chick
Kyleigh Clark
Katelynn Cleere
Kaitlin Combs
Samuel Condon
David Conway
Trevor Coppess
Ryan Crampton
Jarrod DeMange
Hailey Finlay
Skylar Fletcher
Kinzie Fourman
Corbin Frye
Elise Fugett
Carson Good
Lila Grisez
Isabella Gulley
Juan Gutierrez
Cali Harter
Libby Harter
Gabriella Hartzell
Layne Hocker
Madelynn Huecker
Cooper Hunt
Agustina Islic
Lucas Kingery
Luke Kiser
Keely Labig
Conner Leas
Caden Lecklider
Kiera Lecklider
Olivia Lee
Erin Leensvaart
Megan Lind
Sara Loudy
Jayda Lyons
Josie Madden
Peyton McCartney
Owen McGreevey
Ella McLear
Avery Meade
Andrew Miller
Caitlin Moore
Easton Noble
Landon Noble
Ashton Noggle
Minaxi Pandey
Kamdon Riethman
Brookelyn Schmidt
Cheyenne Seas
Ryan Staver
Ella Strawn
Jack Suter
Natalee Swallow
Kyrie Unger
Braeden Wills
Andrew Winner
Lily Wisner
Avery Yount
WINTER SEASON
MVL SCHOLAR ATHLETES
Josie Camacho
Kyleigh Clark
Katelynn Cleere
Trevor Coppess
Caydance Davidson
Jarrod DeMange
Skylar Fletcher
Caden Lecklider
Peyton McCartney
Isabella Ornelas
Minaxi Pandey
Graham Shafer
Aaron Shaffer Jr.
Ella Strawn
Lauren Wright
VARSITY WRESTLING
COACH: DAVID GUILLOZET
VAR. ASST. : KYLE CROMWELL
VAR. ASST. : ZAC RANDALL
VOL. COACHES: KYLE KAGEY,
BENJAMIN HARTZELL
Support Personnel – Certificate
of Appreciation
Kendall Cromwell, Statistician
Ella Strawn, Statistician
CERTIFICATES&NUMERALS
Carl Billenstein Certificate
Caiden Chrysler Certificate
Joslyn Crist Certificate
Gavin Hayes Certificate
Boden Hill Certificate
Alex Matamoros Certificate
Aiden Monrreal Certificate
Quinton Rogers Certificate
Damian Velasquez Certificate
1ST YEAR AWARD
Ethan Dues Let/Ins
Juan Gutierrez Insert
Hunter Harter Insert
Avery Meade Let/Ins
Jack Suter Insert
Jaxon Wombolt Let/Ins
2ND YEAR AWARD
William Bush Bar
Ashton Noggle Bar
Cameron Preece Bar
Andrew Winner Bar
3RD YEAR AWARD
Peyton McCartney Bar
(Captain)
BOYS BOWLING
COACH: RICH HADDEN
ASST. GARY GARLAND
CERTIFICATES & NUMERALS
Ryan Crampton Certificate
Will Hartzell Cert/Num
Easton Noble Certificate
Kevin Rose Certificate
Michel Thompson Certificate
1ST YEAR AWARD
Corbin Frye Let/Ins
Conner Leas Let/Ins/Num
Graham Shafer Let/Ins
2ND YEAR AWARD
Trent Billenstein Bar
Trevor Coppess Bar
Luke Kiser Bar
Noah Mansfield Bar
3RD YEAR AWARD
Alex Hadden Bar
(Captain)
GIRLS BOWLING
COACH: RICH HADDEN
ASST. GARY GARLAND
CERTIFICATES & NUMERALS
1ST YEAR AWARD
Marissa Boney Let/Ins/Num
Kiara Brown Let/Ins
Emma James Let/Ins
Caselynn Perry Let/Ins
2ND YEAR AWARD
Trinity Bowling Bar
4TH YEAR AWARD
Aleiha Fenton Bar/Trophy (Captain)
FRESHMAN BOYS BASKETBALL
COACH: JOSHUA MOORE
CERTIFICATES & NUMERALS
Johnny Barr Certificate
Jeff Boltin Cert/Num
Kaleb Hemp Cert/Num
Lucas Kingery Certificate
Landon Noble Certificate
Andreaz Riffell Cert/Num
Owen Tamplin Certificate
RESERVE BOYS BASKETBALL
COACHES: JIM GABLE
CERTIFICATES & NUMERALS
Josh Baker Certificate
Lucas Brenner Cert/Num
David Conway Cert/Num
Ethan Flatter Cert/Num
Carson Good Certificate
Mason Grimes Certificate
Layne Hocker Certificate
Liam Jasenski Certificate
Owen McGreevey Certificate
Kamdon Riethman Certificate
Bo Stroberger Certificate
Lukas Thorp Certificate
Braeden Wills Certificate
VARSITY BOYS BASKETBALL
COACH: MATT HAMILTON
VAR. ASST.:DENNIS LIGHT
VOL. COACHES: RANDALL
BOWMAN, MICHAEL
FOURMAN
1ST YEAR AWARD
TJ Barr Insert
Jack Chick Insert
Ethan Massie Let/Ins
Ryan Staver Insert
2ND YEAR AWARD
Eric Brenner Bar
Jarrod DeMange Bar
(Captain)
Chace Drew Bar
Drew Hamilton Bar
Haiden Livingston Bar
AJ Shaffer Bar
VARSITY & RESERVE BOYS
BASKETBALL CHEERLEADERS
COACH: MELISSA RIETHMAN
VAR. ASST. : HOPE BYRUM
RESERVE CHEERLEADERS
CERTIFICATES & NUMERALS
Rozlynn Best Certificate
Kinzie Fourman Certificate
Lila Grisez Certificate
Libby Harter Certificate
Maddie Huecker Certificate
Kiera Lecklider Certificate
Cheyenne Seas Certificate
Isabella Smith Certificate
VARSITY BOYS BASKETBALL
CHEERLEADERS
1ST YEAR AWARD
Hailey Finlay Bar
Isabella Gulley Bar
Keely Labig Bar
Caitlin Moore Bar
Kailyn Stahl Bar
Kyrie Unger Bar
2ND YEAR AWARD
Emma Erisman Bar
Cali Harter Bar
3RD YEAR AWARD
Kyleigh Clark Bar
GYMNASTICS
VOLUNTEER COACH:
JESSICA POTHAST
1ST YEAR AWARD
Alice Godard Let/Ins
Gabriella Hartzell Let/Ins
3RD YEAR AWARD
Katelynn Cleere Bar
Erin Leensvaart Bar
BOYS SWIMMING
COACH: MOLLIE MENDOZA
VOL. COACH: TORI KIMMEL
CERTIFICATES & NUMERALS
Landen Kimmel Cert/Num
Avery Yount Certificate
1ST YEAR AWARD
Sam Condon Let/Ins
Logan Kimmel Let/Ins
Andy Miller Insert
2ND YEAR AWARD
Trey Bryant Bar
Cooper Hunt Bar
4TH YEAR AWARD
Caden Lecklider Bar/Trophy
(Captain)
GIRLS SWIMMING
COACH: MOLLIE MENDOZA
VOL. COACH: TORI KIMMEL
CERTIFICATES & NUMERALS
Isabella Ornelas, MGR. Certificate
Rebekah Bunch Certificate
Cali Harter Certificate
Libby Harter Certificate
Kiera Lecklider Certificate
1ST YEAR AWARD
Reese Addington Let/Ins/Num
Isabel Badell Let/Ins
Sofia Chrisman Insert
Ava Glass Insert
Josie Madden Insert
Abbi Sturgill Let/Ins
Natalee Swallow Let/Ins
2ND YEAR AWARD
Elle Cannon Bar
RESERVE GIRLS BASKETBALL
COACHES: CRAIG RIETHMAN,
STEVE LIETTE
CERTIFICATES & NUMERALS
Addy Arnett Certificate
Maelyn Bruner Certificate
Kaitlin Combs Certificate
Elise Fugett Certificate
Madison Hutchens Certificate
Augus Islic Certificate
Olivia Lee Cert/Num
Ava Loudy Certificate
Jayda Lyons Certificate
Ella McLear Certificate
Rilee Norris Certificate
Maria Plessinger Certificate
Lily Wisner Certificate
Rachael Wright Certificate
VARSITY GIRLS BASKETBALL
COACH: RACHEL KERNS
VAR. ASST: LINDSEY
MCGLINCH
Support Personnel – Certificate
of Appreciation
Peyton Kerns, Ball girl
1ST YEAR AWARD
Caydance Davidson Insert
Addie Klosterman Insert
Sara Loudy Insert
Brooke Schmidt Insert
Lauren Wright Insert
2ND YEAR AWARD
Avery Baumann Bar
Megan Lind Bar
Gracie Thacker Bar (Captain)
3RD YEAR AWARD
Josie Camacho Bar
Skylar Fletcher Bar (Captain)
Minaxi Pandey Bar
MY COUNTY LINK
ATHLETE OF THE WEEK
Minaxi Pandey – (1-06-23)
Girls Basketball
Jarrod DeMange – (1-20-23)
Boys Basketball
THE DAILY ADVOCATE ATHLETE
OF THE WEEK
Minaxi Pandey – (12-23-22)
Girls Basketball
EARLY BIRD ATHLETE
OF THE WEEK
Minaxi Pandey – (12-25-22