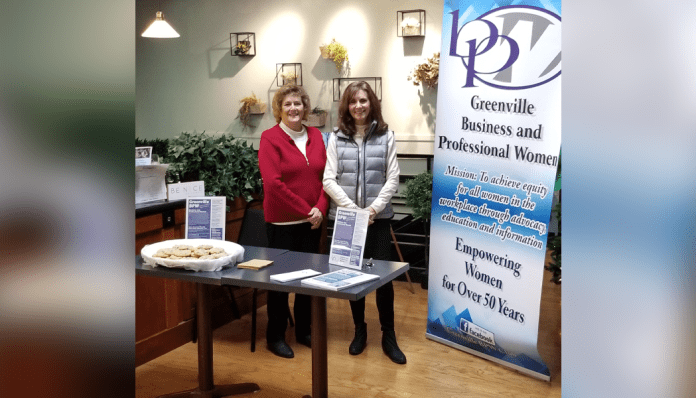 GREENVILLE—The Greenville Business & Professional Women's Club (BPW) recently partnered with Four Twenty Three to bring awareness to Equal Pay Day.
On Main Street Greenville's First Friday, March 3, BPW set up at Four Twenty Three's location at 423 S. Broadway in downtown Greenville. Members Linda Kendig and Susan Fowble discussed Equal Pay Day and BPW with customers in the store. Equal Pay Day is March 15, and symbolizes how far into the next year women must work to
make what a man earned in the previous year. On average women make 83 cents to the
$1.00 men earn.
In March, it will be 100 years since the 28th Amendment was first introduced. The current status is the U.S. Senate would not bring SJ1 to the floor for a vote. When representatives and feminist advocates including from the ERA Coalition went to the U.S. Capital to lobby and pressure Majority Leader of the House Chuck Schumer to bring it to the floor for a vote they were able to get him to agree to bring it to the floor for a vote before April.
Greenville BPW thanks Four Twenty Three for their participation in this event.
The Greenville BPW Club's mission is to achieve equity for all women in the workplace through advocacy, education, and information. The Club holds fundraisers throughout the year to raise money to grant scholarships to Darke County senior high school girls and young women furthering their career. The Club meets the second Thursday of every month for a dinner meeting. Follow us on Facebook at Greenville BPW. Those interested in learning more about the club can contact Membership Chair Susan Fowble at 937-423-2387 or fowble51@gmail.com.