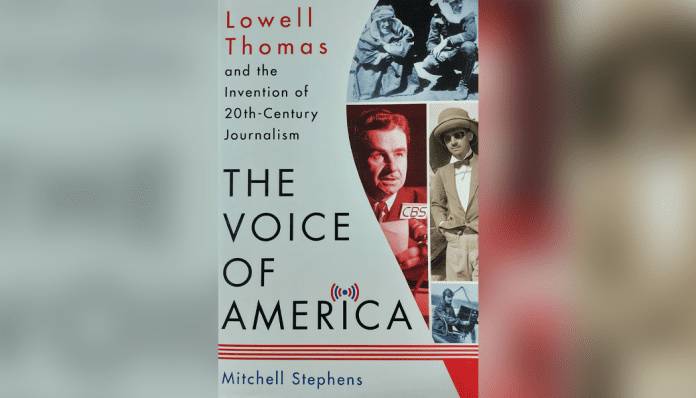 GREENVILLE—If Lowell Thomas, the world-famous radio newscaster and father of modern journalism, was still on the air today, it would be safe to say that he would still command the undaunted attention of the nation. Thomas had been given the gift of understanding how to deliver the national nightly news, whether heavy or jubilant, to America. He knew, as well, how to weave stories of world wonders, fascinating characters, and distant locales so that those millions of people listening and watching from homes across the United States could imagine themselves right there beside him. This is how Lowell Thomas became the trusted voice of America and why today's journalism can't be discussed without giving Thomas credit for its very existence.
The Garst Museum hosts author Mitchell Stephens, on March 25,  at 2 p.m. for a fascinating program that details the tremendous impact Lowell Thomas continues to have on the modern "traditional" media and travel journalism.
Stephens, a professor of journalism at the Carter Institute at New York University, is the author of Voice of America: Lowell Thomas and the Invention of 20th-Century Journalism. He was a writer for the 2018 film documentary Voice of America: Lowell Thomas and the Rise of Broadcast News. A quote from The Wall Street Journal summarizes the exemplary work of Mitchell Stephens in reigniting the awareness of the impact Thomas made on American newscasting: "Among the celebrated people in America in the 1920s and '30s were Franklin Roosevelt, Charlie Chaplin, Babe Ruth, Shirley Temple, Jack Dempsey, Clark Gable, Bing Crosby―and Lowell Thomas. All those names still resonate―except Thomas, for decades the "Voice of God" in network newscasting…. Now Mitchell Stephens, an accomplished chronicler of journalism, has resurrected Thomas."
The Garst Museum welcomes the public for this program and light refreshments will be served. Though the program is free to attend, admission to tour the Garst Museum does apply. Funding for this program is made possible by the Harry S. Stephens Memorial Fund.