PITSBURG – The Franklin Monroe boys basketball team overcame a slow start to take a 4-point lead at the half, then opened a double-digit lead in the second half and finally held off a late rally by Mississinawa Valley to win their season opener 54-43.
The Blackhawks looked strong early on with senior Matt Pisano going for 6 points in the paint to grab a 13-8 first quarter lead over the Jets.
Pisano scored another 4 early in the 2nd quarter and with the Jets trailing 19-11 they needed some offense and got a boost on back-to-back triples from junior Gage Wackler followed by a bucket from EB Fall to trail by just one 19-18.
The Blackhawks finally broke a 4-minute scoring drought on a Drew Anguiano fielder to go up 21-18 at the break.
Trailing by just 3 points was a welcome relief for long time Franklin Monroe coach Troy Myers.
"I mean, it wasn't pretty we had five guys take the floor who had never started a varsity game before and three of those guys hardly ever played in a varsity game. So, I knew coming into this thing and I told several people we cannot turn the ball over as much as I think we might. And we turned it over as much as I thought we might," Myers stated.
Just minutes into the 3rd quarter Pisano would pick up a foul that would significantly impact the play of the Blackhawks the rest of the game.
Defensively Mississinawa 2-3 zone was giving the Jets fits but with Pisano out of the middle things began to open and the Jet's EB Fall would benefit.
Fall had just 6 points at the half, but he would explode for 22 in the second half and was able to get into the middle to get scores.  He scored 8 points in the 3rd quarter and 14 in the 4th quarter to lead all scorers in the game with 28.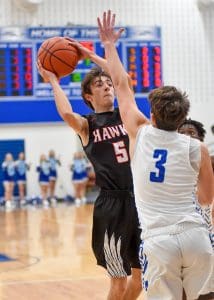 Not only did Pisano get in foul trouble, but senior guard Troy Woodbury as well and the offense could only generate 5 points in the 3rd quarter with Mississinawa trailing 32-26 heading into the final stanza.
But Mississinawa didn't roll over and made a run at the Jets.  Troy Woodbury buried 3 triples (4 for the game) and Bryson Gower had 5 points to keep the game within striking distance.
But it was too much EB Fall in the open floor late, including two dunks at the rim as the Jets held on for the 54-43 win.
For Mississinawa they had and a few dry spells on offense … but it came down to foul trouble according to 1styear coach Matt Hamilton.
"You got to stay out of foul trouble. When we get in foul trouble we go downhill quickly.  I thought our two three zone was effective most of the night they played it well.  We had a couple miscues but it's our first game of the season. These boys have practice hard all the way from freshmen, sophomores, juniors, seniors, they're all playing. They're all doing exactly what we asked them to in practice. We're disappointed we came in here expecting to win, we expect to win every game and the boys are devastated they lost the game. Every single one of them. And that's what I want to see out. Um, they aren't accepting losing. It's going to take us a while but we're going to be a tough team mid to late season team to play," Hamilton said.
For Franklin Monroe Troy Myers can breathe a sigh of relief knowing they didn't look good but still found a way to win.
I give our kids a lot of credit on the defensive end I thought we were solid enough obviously and thankfully it kept us going because our free throw shooting wasn't very good. And we turned it a lot, but I see some growth in the kids over the last 20 practices prior to tonight's game.
We're just starting from a different spot and if we can continue to get that growth with some of our youth and inexperience hopefully it'll pay off for us down the line.  It's better to learn after a win then a loss, it was nothing pretty to watch or to coach but we got the win," Myers concluded.
Box Score
Score By Quarters:
Mississinawa               13        08        05        13 – 43
Franklin Monroe         08        10        12        14 – 54
Individual Scoring:
MV: Gower 5, Woodbury 13, Pisano 13, Loy 4, Wehrkamp 3, Anguiano 4, Hunt 1
FM: Riffle 1, Gage Wackler 8, Yount 9, Miller 4, Addis 4, Fall 28