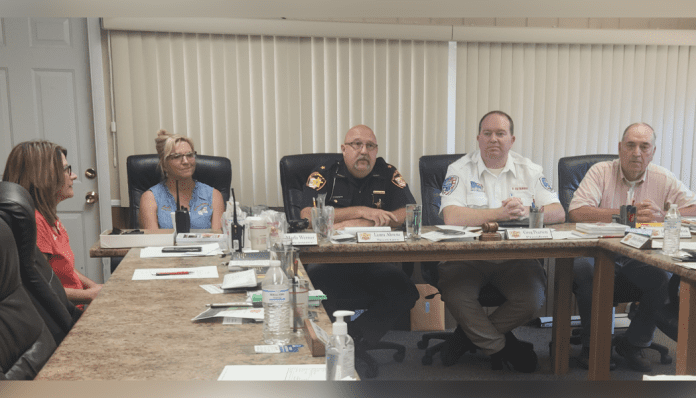 Thursday morning Darke County Sheriff Mark Whittaker, President and CEO of Spirit Medical Transport Brian Hathaway, and Fairboard members Marla Werner, Laura Ahrens, and Jim Zumbrink met with the media to review safety for the fair.
Safety is a major concern with an event as big as the Great Darke County Fair. About 19 years ago, the Darke County Fairboard, along with local public safety chiefs and directors, decided to form a safety committee.
The Safety Committee focuses on major safety concerns and how to address them yearly. This way, those attending the fair can focus on having a safe and fun family event.
"We have fire, ems, and law enforcement on the grounds every day of the fair," Whittaker said.
One of the significant changes in safety concerns this year is the concert being moved to Saturday.
"I think we are anticipating a sell-out crowd, and it's getting close to that," Whittaker said. "That means that the Saturday of the fair is going to be a busy time, and we have spent a lot of hours preparing for that. "
Hathaway reminded all to stay hydrated throughout their time at the fair.
"There are different spots that you can go to to make sure that you can water and rehydrate yourselves," said Hathaway.
As the week goes on and the temperature gets hotter, keeping yourself hydrated is very important for your health and safety.
If you were to have a safety issue at the fair, you can approach any of the fire, ems, and law enforcement responders on duty for help. In an emergency, call 911.
"911 works on the Darke County Fairgrounds, and actually by design, if you dial 911 for an emergency anywhere on the fairgrounds, you will likely be transferred to the 911 dispatcher that is on the grounds" – Whittaker
Whittaker also gave a reminder to be safe around the livestock and animals. Make sure you give some distance between yourself and the animals and communicate with the animal's owner before petting or interacting with it.
Have a safe and fun Fair Week!