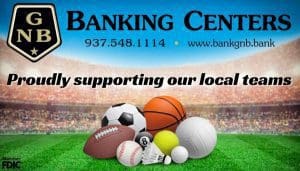 EATON – Eaton's boys' varsity basketball team bounced back from a touch loss earlier in the week to take back-to-back wins on the weekend. The Eagles suffered a 46-43 defat at Dixie, then went on to defeat Valley View and Greenville on Friday and Saturday.
The Eagles came from behind to take a one-point win over Valley View. Eaton trailed 12-10, 24-20 and 36-30 at the end of the first three quarters; but outscored the Spartans 21-14 in the fourth for the win.
Ramy Ahmed led the Eagles with 23 points and eight rebounds. Conner Bach added 11 points.
Against Greenville, the Eagles took an early lead, but had to hold on in the fourth quarter. Eaton led 46-28 at the end of three periods, but were outscored 25-11 in the final quarter.
Ahmed again led Eaton with 23 points. Grant Miller came off the bench to add 10.
Eaton is scheduled to play at Carlisle on Friday, Jan. 13, and then host National Trail on Saturday.
Eaton 43, Dixie – 46 | Tuesday, January 3
Eaton 51, Valley View 50 | Friday, January 6
Eaton 57, Greenville 53 | Saturday, January 7