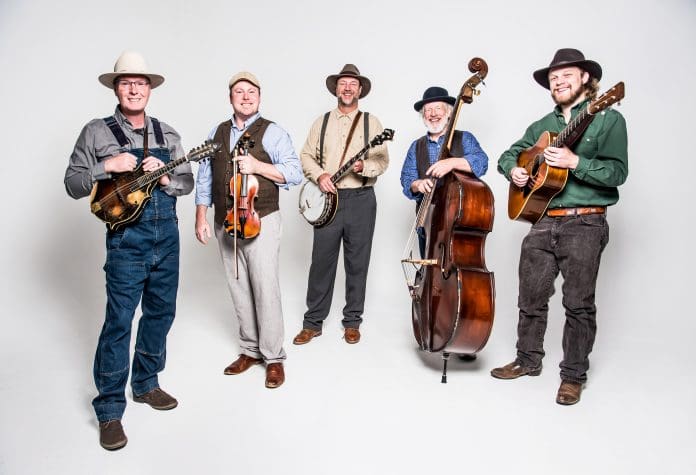 GREENVILLE—Darke County Center for the Arts will present award-winning bluegrass group Appalachian Road Show at Henry St. Clair Memorial Hall in Greenville on Saturday, February 11. "DCCA is thrilled to be bringing this super group to our community," said DCCA Executive Director Andrea Jordan. "While they are superb musicians, the members of Appalachian Road Show are also known as ambassadors of Appalachian culture. Whether interpreting traditional folk songs and hymns or offering their innovative original music, they convincingly tell the stories of real people through their songs," she explained. Tickets for the performance by Appalachian Road Show are $30, and can be obtained by contacting DCCA at www.DarkeCountyArts.org or by calling 937-547-0908. If any remain by showtime, tickets will also be sold at the door the night of the show.
Appalachian Road Show consists of banjoist Barry Abernathy, fiddler Jim VanCleve, vocalist and mandolinist Darrell Webb, bassist Todd Phillips, and guitarist Zeb Snyder. The group's debut self-titled album, Appalachian Road Show, landed three multi-week number one songs on Bluegrass charts and garnered the band a "New Artists of the Year" nomination as well as a "Song of the Year" nomination at the 2019 International Bluegrass Music Association Awards. Following their highly successful sophomore recording release, Tribulation, the group has recently recorded Jubilation, a celebration of the pride and spirit of America's mountain people featuring a spoken introduction from country superstar Dolly Parton. Although several members of Appalachian Road Show have made numerous appearances at country music's iconic Grand Ole Opry, the band made their debut on the legendary stage last November 25th, earning plaudits for their authenticity and virtuosity.
Greenville Federal is sponsoring this performance by Appalachian Road Show; the Ohio Arts Council helped fund this program with state tax dollars to encourage economic growth, educational excellence and cultural enrichment for all Ohioans. Also, DCCA membership contributions and funds provided by Darke County Endowment for the Arts support all DCCA presentations. Additionally, DCCA receives funding from the Ketrow Foundation, Harry D. and Esther Stephens Memorial, Inc., and the John R. and Miriam H. Knick Fund of Darke County Foundation.