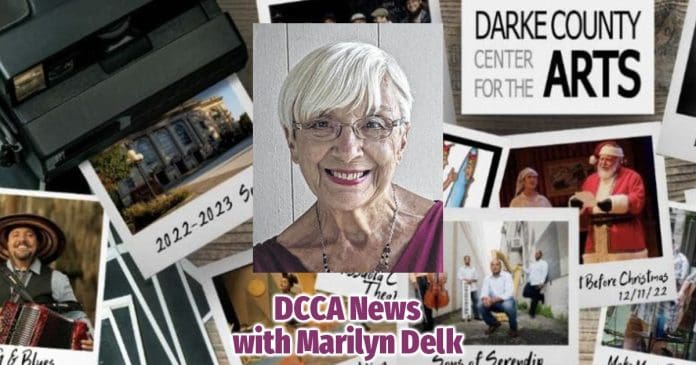 DARKE COUNTY—When Bay Area Children's Theatre presents Llama Llama Live! at Henry St. Clair Memorial Hall on Sunday, March 26, families will have fun watching Baby Llama create drama at bedtime, and find sweet resolution as Mama Llama calms the chaos. But prior to the 2 p.m. finale of Darke County Center for the Arts' 2022-2023 Family Theatre Series (from noon until 2 p.m.), those same families can also be delighted by the current exhibit in the Anna Bier Gallery–the annual Elementary Art Show featuring the work of local first through eighth-grade students from Arcanum, Bradford, Franklin-Monroe, Greenville, Mississinawa Valley, and Versailles public schools as well as youngsters attending DesColores Montessori School in Greenville.
Versailles student Wyatt Eilerman creatively used glitter, watercolor, and paper in his eye-catching piece "Fall Pumpkin" to earn first-place among kindergarten students, while Emmie Combs of Franklin-Monroe painted an adorable "Bumble Bee" to gain second place. Greenville's Emma Noble won a third place ribbon with her playful "Polar Bear Summer." .
Portraits ruled among first graders, as Ainsley Yingst of Bradford combined tissue paper with watercolor in a charming "Penguin" portrait, while Versailles' student Jude DeMange earned a second-place ribbon with "Picasso Portrait—Blue Period," an astute tribute to an iconic artist. "Moonlit Owl," Kara Rykal's imaginative portrait of a colorful raptor, is the third place winner.
Diverse work by two talented Versailles second-graders won first and second ribbons; an incredibly well-crafted ceramic "Nativity" by Paisley Billenstein and Marlene Quinto's charming, colorful "Picasso Rooster" show stunning skill. "Mountain Landscape" by Alayne Starns from Greenville is a striking depiction of a colorful scene.
Versailles student Anne Schmitmeyer's luminous "Winter Fox" expertly illustrates dimension to earn first place among third-grade students. Cora Shroyer of Bradford created an intricate study of three fascinating characters in runner-up "Best Buddies," while third place winning "Pop Art Pie" by Evelyn Knapke from Versailles shows astonishing clarity of understanding for the genre emulated.
Music notes add interest to an eye-catching mixed media piece,"Blue Period Picasso" by Versailles student Parsley Bergman, which colorfully depicts a guitar to win first place among fourth graders. Hope Mark's fun, yet realistic ceramic "Cherry Cake" looks good enough to eat, and earned second place for the Bradford student. Third-place winner Dani Dillman of Arcanum created glowing "Jellyfish" that shimmer to life.
Unique first- and second-place-winning works by Versailles fifth graders, Eleanor Sutter's vivid "Illuminated Letter" and Easton Dirkson's "Dragon Eye," use diverse mixed media to intrigue and fascinate the viewer. A well-done still-life by Bradford's Legacy Peeples, "Picture Paint In School," realistically depicting a glass cylinder containing the tools of the trade—scissors, a ruler, etc.–earned third.
Prestyn Dross of Bradford added threatening teeth and jaws to a recycled Coke container to create "Monster Can" and win first place among sixth graders; classmate Arabella Troxel whisks viewers to the Southwest with her intriguingly colorful "Indian Blanket with Skull." In a charming ceramic creation by Greenville's Haylee Fisher that earned third, a tiny mouse is trapped under the paw of an amazingly adorable tiger.
Well-done paintings by Franklin-Monroe students Grace Saylor and Kidren Boyle, respectively depicting a lovely tropical sunset that whisks the viewer to warmer climes and a playful cat under a Christmas tree, earned first and second place for entries from seventh graders. Hayven Evans of Bradford won third with "Winter Windows," depicting scenes warmly evoking the cold days of winter.
The fascinating three-dimensional illusion created by Franklin-Monroe's Reed Brumbaugh in "Origins of Bova Fet" won first-place among eighth-graders. A "Grown Polliwog" springs to life in a vivid drawing by Mississinawa Valley student Taylor Short to earn second place, while verdant green mountains under a moody orange-colored sky demonstrate a startling sense of dimension in a work by F-M's Sami Stull that came in third.
Tickets for Llama Llama Live! cost just $5 each and will be available at the door prior to the show; for more information, contact DCCA at www.DarkeCountyArts.org or 937-547-0908. Anna Bier Gallery is open Sundays from 12 noon till 2 p.m.; to learn more, contact Gallery Director CeCelia Rice at CeCeliaRice@darkecountyarts.org or by calling 937-564-7568.