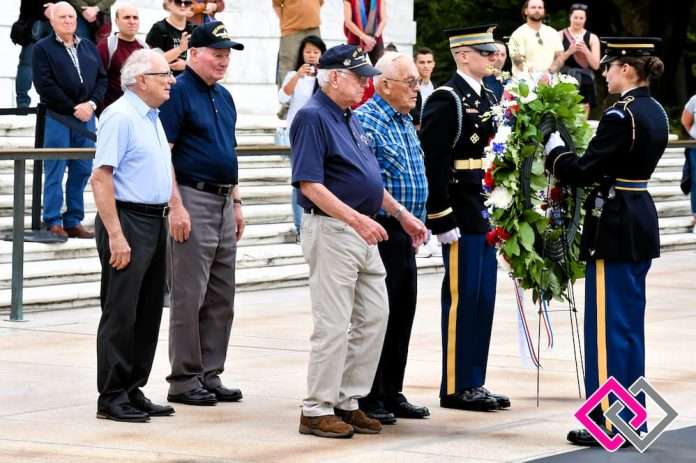 WASHINGTON DC – Darke County Veterans, Ray Beyke, Ken Pence, and brothers Frank and Ken Baker had the honor of Wreath Laying at the Tomb of the Unknown Soldier at Arlington National Cemetery on the recent Darke County Veterans Services annual trip to Washington DC.
The four oldest Darke County Veterans making the DC trip were selected to lay the wreath; Greenville's 93-year-old Ken Pence, 86-year-old Frank Baker of New Madison, 84-year-old Ray Beyke of Greenville, and New Madison's 84-year-old Ken Baker.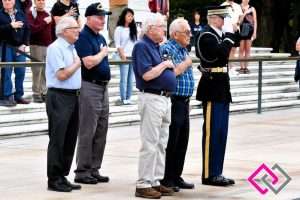 The group of four first met at the door of the Tomb Guard Quarters for instructions before ascending the steps to the ceremony. Ken Pence slipped on one of the first steps leading down and was quickly steadied by the Sentinel who offered his arm to Baker descending the steps to the Wreath Laying Ceremony.
"It is an honor to do something like this," said Pence, a Korean War Veteran. "Here I'm mingling with Presidents and Kings and whatever … high society. I never even dreamed of doing it – never did. All the time I saw it done I never thought I would ever do it."
Pence, born and raised in Gettysburg and now lives in Greenville, joined the US Navy in 1948 and served on the USS Kimberly DD-521, a destroyer, and was in the service when the Korean War broke out.
"I went in for three years and then President Truman gave me another year extension," said Pence. "The ship was ready to go to Korea and time would have been up so I extended."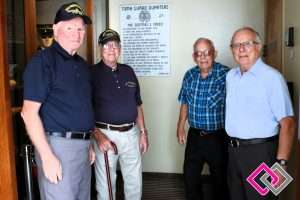 "The trip to DC was fantastic, tiring but great, plenty to eat all the time," Pence added. "If you get a chance, do it."
"It's a great honor," 86-year-old Frank Baker stated. "You're doing it for thousands of people back home."
Frank Baker is a 1956 graduate of New Madison served in the US Army from August 1957 – August 1959, was a squad leader on a 30-caliber machine gun crew with the Third Infantry Division in Germany and noted "did a lot of border patrol".
New Madison 1957 graduate, 84-year-old Ken Baker, younger brother of Frank also served in the US Army from 1957-1960 in the Army Security Agency including a 20-month tour in Germany.
"It was quite an honor," he said of the wreath laying ceremony. "It never came across my mind at all. I was amazed when they said we were the chosen ones based on age – that sort of said something."
"I was in just before the Vietnam, in the Cold War time between Korea and Vietnam." Ken continued. "I enlisted for three years to get an education in electronics and it worked, that's been my career."
"It's a wonderful trip, a chance of a lifetime," he said of the 2023 DC trip. "Well planned."
Greenville's Ray Beyke, an 84-year-old US Navy Veteran joined the Navy Reserve while he was still in high school and served two years of active duty, stating, "I would do it all again."
"It was really a neat experience and it was a great honor," said Beyke. "Very emotional thinking of all the people that were in the cemetery."
Beyke served on the commissioning crew of the USS Independence in 1959.
"That was the biggest aircraft carrier at that time and I was selected to be on that crew," Beyke said.