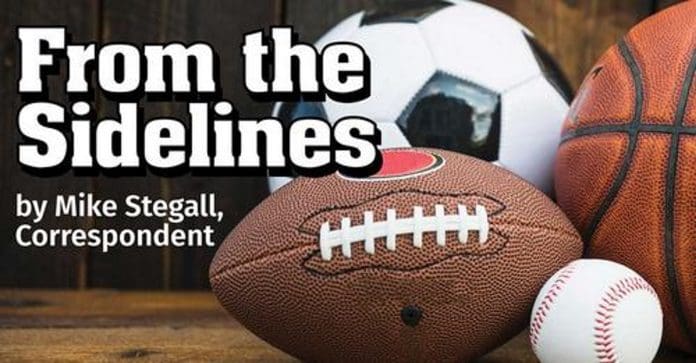 The football season at the professional level is at the halfway point.  In college there is three weeks left before the playoffs will be established, and the High Schools are already in playoff mode.  We are fortunate that Darke County as of this writing has three teams still in the playoffs.  They are Tri-Village, Versailles, and Ansonia.  That's pretty good for a county that only has eight schools total!  All three schools have excellent programs, good student athletes, and parental and student support.
I also want to mention two bands, Versailles and Greenville.  Greenville did not quite make it to State, but Versailles did and won!  Congratulations go out to all the band students in our county schools.  They work hard, practice quite a bit, and represent their schools in the best manner possible.
As for football this time of year, it is known as "Crunch Time".  Now, is when you want your team to really come together and play their best.  I watched the Bengals last Sunday, and I will admit that they look like they are rounding into shape!  The only bad thing I see happening with them and all other teams is injuries and coaching errors.
I mention coaching, because I thought that Bengals coach Zac Taylor was completely outcoached the previous week, against Cleveland, simply because he fell in love with the pass game. I do remember at least three times the Bengals had a 3rd and less than three and threw the ball, all three failed.  I think they only ran the ball 10 times, and that was a killer.  Against the Panthers, he was much, much better, and the Bengals looked like a contender.
I think Ryan Day does the same thing sometimes! Ohio State looked terrible against Northwestern, but I am sure that weather played a part in that.  However, I am concerned that it took Ryan Day too long to concentrate on the run.  It took him until the 4th quarter to establish it.  Once again, you had an offensive minded coach fall in love with the pass, because you have a great quarterback.  Sometimes, you have to just line up and hit people in the mouth!
Ohio State should be ok, as long as they can stay healthy.  I also do believe that the Michigan game will decide everything.  I see it this way, If Ohio State can stop the run, they win.  Michigan will not be able to stop the Ohio State passing attack, they seem to have trouble with passing teams.  If not, Michigan will represent the Big Ten.  We will see!
This weekend will see our three remaining High School teams try to advance further.  The most interesting game for me will be the Versailles game.  Once again, the Tigers have to play an inter-conference game against Marion.  That will definitely be a barnburner…..again!  These two teams have a real rivalry that is always fun to watch.
I do think that Ansonia and Tri-Village will advance also.  Both teams are well coached, have great support, and they will hit you, just like Versailles and Marion.  Dang! Think about it, we really do have great football in our area!  I wish all three teams the best, and win or lose, we should be proud of the example the parents, coaches, athletes, and student bodies have set.  If you can, make a point to go see a game this weekend, it's really good football!  That's the way I see it…..from the sidelines.