DARKE COUNTY—My County Link and our sponsors are pleased to congrats to the Class of 2023!
The class of 2023 has come a long way. They were alive during Hurricane Katrina, the start of the 2008 recession and the release of the iPhone, but probably not old enough to remember them. The students started preschool in 2008 or 2009, and were in second grade during President Obama's second election.
Ansonia Class of 2023
Superintendent PJ Burgett, Principal James Robson, Senior Advisor Matt Sutter, Nathan Armock, Gabrielle Balcom, Abby Barber, Brayden Barnes, Gaige Barnett, Landon Black, Garrett Brown, Haylee Brown, Ian Brown, Meghan Brown, Makayla Burtis, Ross Crumrine, Kadyn Edwards, Madisyn Esser, Autumn Everman, Levi Gasper, Denay Geesaman, Wyatt Gray, Damien Grilliot, Mason Grilliot, Raven Grilliot, Eyan Hackler, Alliyah Hall, Kinsey Hartzell, Parker Helton, Kelsey Holden, Austin Ingle, Kaylin Johnson, William Kammer, Gavin Kelch, Emily Kelly, Kaden Lane, Erick Lee, Owen Locke, Hailey Mader, Devin McKenna, Exzaviar Moody, Austin Obringer, Seth Petitjean, Rebekah Prasuhn, Scott Ritchie, Ian Schmitmeyer, Hailey Sebring, Heavenly Shilt, Marissa Shook, Jansen Smith, Jason Stover Jr., Kennedi Strawser, Jessica Thomas, Samantha Thornburg, Benjamin Thorp, Jeffrey Thorp, Madison Warner, Ariya Wickham, Jozzlin Worley, Logan Wright, Gabriel Zumbrun.
Arcanum Class of 2023
Superintendent John Stephens, Principal Jason Stephan, Class Advisor Beth Kessler, Class Advisor Heather Whittaker, Tia Angle, Annalise Arnett, lan Ball, Natalie Beck, William Bell, Jr., Layna Best, Riley Bevins, Kaitlyn Brown, Will Brubaker, Allison Brumbaugh, Paige Burrell, Victoria Cave, Jaxson Christ, Grace Collins, Dominic Davis, Mollie Ericksen, Bennett Farmer, Trenten Farmer, Aaron Fourman, Kylee Freeman, Braelynn Garland, Garrett Garno, Lauren Gower, Caleb Hartman, Shelby Haye, Trevor Hayslip, Lacy Hittle, Elanie Hollinger, Alaina Huffgarden, Ethan Ignaffo, Chase Jackson, Lydia Kauffman, Nate Kessler, Sarah Koehl, Mariah Kreusch, Karter McCready, Isaac Mills, Jacob Rice, Charles Barry, Reece Blinn, Brooklyn Miras, Zoe Monnin, Connor Moores, Patricia Nihizer, Claire Lemons, Eain Parks, Ashton Paul, Vahn Plessinger, Aiden Psczulkoski, Hannah Rademachir, Jacob Rayburn, Dominic Rhodehamel, Emily Riffell, Zade Shank, Bryson Sharp, Nicholas Sharritts, Gage Shiflet, Heather Sowers, Lucas Stastny, Owen Stephens, Carson Tegtmeyer, Troy Thacker, Caden Thompson, Kaitlyn Toy, John Trittschuh, Brookelyn Ullery, Brooklyn Venrick, Wyatt Via, Kathryn Weiss, Coletin Williams, Quentin Wilson, Dakota Wooten, Maxwell Wooten, Nathanael Wright.
Bradford Class of 2023
President Isabella Hamilton, Vice President Dalton Reck, Co-Secretary Cheyenne Buchanan, Co-Secretary Molly Clark, Treasurer Remington Harleman, UVCC Representative Rebecca Sowers, Chase Ashby, Brenden Baker, Sarah Beckstedt, Isabella Brewer, Oakley Brubaker, Brick Burgett, Logan Daugherty, Parker Davidson, Joshua Derstine, Tasya Felver, Samaura Hart, Brian Kitts, Kaden Markham, Landon Monnin, Andrew Nicodemus, Addison Osborne, Halley Petty, Courtney Riffell, Jaida Riggs, Dalten Skinner, Scout Spencer, Shayleigh Swick, Madyson Timmons, Leah Welch. Not Pictured: George Chowning, Ashlee Douglas, Jayden Dues, Trevor Penny and Mason Perkins.
Franklin Monroe Class of 2023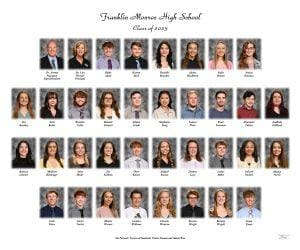 Superintendent Dr. Jeremy Pequignot, Principal Dr. Lisa Wendel, Blake Addis, Karson Beck, Danielle Besecker, Alaina Blackburn, Sadie Bowser, Jessica Brocious, Zoe Brookey, Aeris Butler, Brayden Cable, Melanie Clement, Ashton Combs, Stephanie Dong, Tanner Flora, Ryan Fourman, Alexander Fulton, AvaRuby Gilliland, Rebecca Gilmore, Madison Henninger, Avery Hosler, Zoe Kellems, Drew Kniese, Abigail Krauss, Deana Lavy, Lulus Miller, Jaliyah Nichols, Alayna Norris, Cade Peters, Gavin Tucker, Hunter Warner, Landon Williams, Octavia Wintrow, Karsen Wright, Reanna Wright, Cason Yount.
Greenville Class of 2023
Braden Addis, Alexis Arnett, Alexis Baldwin, Abigail Barton, Gloria Bassinger, Aubrey Bath, Carson Beach, Genevieve Beebe, Trenton Billenstein, Seth Branham, Ellasyn Bruner, Stella'Anne Brush, Cooper Bucklew, Ty Bush, Hayley Callihan, Josie Camacho, Hannah Carroll, Madison Castle, Autaum Sky Chappie, Kyleigh Clark, Katelynn Cleere, Demitrius Clemens, Blaze Dahs, Caydance Davidson, Jason Davis, Aubrey Deal, Breanna Deal, Kallie Dellaquila, Jarrod Demange, Autumn Dicke, William Dixon, Rebecca Dotson, Keith Elam, Noah Ellis Nolan Ellis, Julien Combs, Kelly Combs, Madison Cook, Trevor Coppess, Ryan Crampton, Zoe Enochs, Avery Ernst, Natalie Evans, Hunter Fannin, Aleiha Fenton, Tessa Fine, Braydon Fleming, Skylar Fletcher, Brianna Flory, Christopher Foreman, Xander Foster, Larissa Foureman, Samantha Frens, Jacob Fultz, Taz Gantt, Asher Garber, Kate Garber, Maisie Garrett, Samantha Gartenman, Gabriel Gibson, Alice Godard, Michael Grider, Christopher Griggs, Kylie Hamm, Ethan Hans, Brenden Harper, Ashley Hatch, Khara Hartzell, Lydia Heeter, Rick Heidrich, Sarah Henning, Nathaniel Hittle, Emma Howard, Kamryn Hupman, Kenna Jenkinson, Aleihs Jones, Dean Jones, Emily Kreider, Adelynn Lacey, Trent Larsh, Caden Lecklider, Haiden Livingston, Lilly Lowe, Hong Hui Lu, Ella Manning, Noah Mansfield, Jarrod Mason, Kylie McCarty, Jaybin McFaddin, Tyler McKinniss, Bruna Medeiros De Brito, Alexsander Meiring, Mason Middlestetter, Abbigail Mikesell, Kyra Mitchell, Jade Nelson, Isabella Ornelas, Kara Osborne, Minaxi Pandey, Tyson Pool, Carson Pope, McKenzie Pressnall, Seann Prowant, Abigail Raffel, Abigail Randolph, Aniella Recchia, Austin Rehmert, Chloe Rehmert, Noah Rouse, Cole Royer, Emma Sanders, Jacob Schmitmeyer, Lillian Schwer, Serenity Scruggs, Mason Seas, Graham Shafer, Aaron Shaffer,  Jenna Shepherd, Baylee Shipp, Brock Short, Ethan Shumaker, Mason Shuttleworth, Alexis Slade, Charlotta Smith, Evan Smith, Hailey Smith, William Snyder, Gabriel Stephens, Mariah Stevens, Noah Stevens, Ella Strawn, Samantha Suter, Grace Swafford, Thomas Swanson, Jayden Swartz, Emma Tanner ,Gracie Thacker, Rayvin Thompson, Elijah Watts, Rodney Wert, Gracie West, Miyah Whitney, Kylan Whittington, Jacob Wilkerson, Leo Williams, Casey Willis, Haley Wolf, Lauren Wright, Rheagan Wykes, Aerianna York, Hanna York, Tyler Zechar, Catherine Zehringer, Ashlyn Zimme. Not Pictured: Jasmine Baker, Alaina Baughn, Ryan Best, Glory Bowers, Izzabelle Bowersock, Breana Braun, Katelyn Conway, Liliana Cruze, Donovan Delaney, Sierra Dobson, Ashdon Dyson, Drew Flora, Jonathan Flory, Lukas Francis, Tyler Gear, Victor Genao, Morgan Hanes, Jaycob Herron, Haleigh Hoening, Adam Humphreys, Jaden Johnson, Jade Jones, Jaylee Kallenberger, Keegan Karger, Lilyan Lindsey, Peyton Macias, Peyton McCartney, Star Mettauer, Payton Parsons, Keegan Portemont, Rayvin Putman, Luke Rammel, Luke D. Rammel, Luke F. Rammel, Corbin Rhoades, Ekaterina Rivera, Donovan Rogers, Joshua Ruble, Rebecca Sanders, Sarah Savoy, Caden Smith, Aubrey Stutz, Marcus Thorp, Mackenzie Thrush, Romeo Velesquez, Madison Warner, Misty Wentworth, Abby Whittaker, Kelly Witwer.
Mississinawa Valley Class of 2023
Alana Allen, Drew Anguiano, Zackary Binkley, Lacey Bowers, Amanda Bridges, Caleb Carrico, Samantha Couchot, Pierce Daniels, Gabriella Elizondo, Mallory Flesher, Alexa Goana, Abigail Green, Caitlyn Haines, Superintendent/Principal Mr. Jeffery Winchester, Senior Class Advisor Mrs. Kimberly Hershey, President Lillian Severance, Vice President AJ Waymire, Secretary/Treasurer Sierra Grim, Emma Hart, Benjamin Hartzell, Naomi Hathaway, Jocelyn Hoggart, Elias Levesque, Jacob Loy, Manual Melchor, Krista Miller, Kaden Mote, Matthew Pisano, Dylan Pollic, Consuelo Ramirez, Mason Richards, Collin Scott, Connor Shimp, Kaitlyn Sink, Brayden Smith, Ava Stump, Joshua Varvek, Nereida Velasco,  Judah Ben Winchester, Troy Woodbury, Kailey Yohey. Not Pictured: Bree-Anna Beam, Damion Massenguill, Grace Steen.
Tri-Village Class of 2023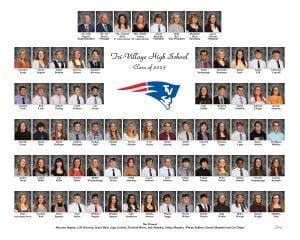 Superintendent Mr. Josh Sagester, Kearstin Auske, Alyssa Begoon, Jayden Brabson, KayLee Brewer, Matthew Brewster, Camden Cook, Seth Cook, Dalton Delong, Caleb Derksen, Ian Dixon, Sr. Class Advisor Ms. Annette Black, Principal Mr. Lee Morris, Sr. Class Advisor Mrs. Shellie Francis, President Austin Rismiller, Vice President Halle Bell, Secretary Elizabeth Moss, Treasurer Loryn Metzcar, Justin Brumbaugh, Kennedee Brummett, Ashlyn Burk, Logan Call, Christian Cantrell, Josie Dubbs, Brennen Fellers, Justin Finkbine, Ashlynn Fleagle, Kristin Forsythe, Kaytlin Greer, Kasen Hale, Harley Hollinger, Andrew Holzapfel, Zachary Huff, Morgan Hunt, Jessica Jackson, Lexi Keiser, Wyatt Ketring, Austin Kosier, Cheresh Lee, Breanna Lipps, Jace Lipps, Karra Marker, Thaddaeus Markley, Audrey Mead, Lainey Miller, Lily Miller, Natalie Miller, Shelby Mintkenbaugh, Chanden Moore, Molli Mowbray, Casey Osborne, Zane Osborne, Dillan Plush, Tanner Poston, Rylee Powell, Joshua Randall, Latorie Reigelsperger Nevaeh Richards, Mara Richardson-Welch, Kyrsten Ross, Rylee Sagester, Jesse Saylor, William Siegrist, Meghan Spencer, Allie Stansberry, Tabitha Stewart, Wilson Suggs, Peyton Walker, Daniel Watern, Sage Waters, Blake Weyant, Samuel Wright, Madison York. Not Pictured Mercades Bogema, Lilli Fourman, Jaclyn Hurd, Gage Lochard, Elizabeth Moore, Jade Murphey, Joshua Murphey, Whyatt Robbins, Donald Shumaker and Carl Singer.
Versailles Class of 2023
Alyssa Barga, Luke Batty, Grant Beasley, Lauren Bergman, Mitchell Bey,  President Lucas Stammen Vice President Zachary Ahrens, Secretary Brynn Briscoe, Treasurer Ethan Rauh , Darren Billenstein Emma Billenstein, Taylor Bohman, Kirsten Bomholt, Kira Cheadle, Andrew Clark, Noah Covault, Braylon Davis, Emily Delzeith, Asa Demange, Ethan Dickey, Ethan Dirksen, Tyler Dirksen, Kennedy Dross, Kane Epperly, Max Gehret, Titus Gehret, Wesley George, Keegan Gibson, Abby Gilmore, Bobby Gray, Carson Griesdorn, Taylor Grilliot, Elijah Grillot, Payton Groff, Kaiyla Hecht, Brayden Henry, Isaiah Hess, Laina Hitchcock, Tyler Hull, Lauren Jay, Rachael King, Abigail Koons, Andrea Leiss, Jared Lyons, Alexis Magoto, Alie Mangen, Gabriel Marchal Kristopher Marshal Alexis Mathis, Keegan May, Tiana Mescher, Alyssa Meyer Katelyn Meyer Damien Michael Alexander Nelson Devyn Oliver Abigail Peyton, Austin Pierron, Payton Platfoot, Aaron Pleiman, Ryan Pohl, Grant Pohlman, Nicholas Poore, Hailey Porter, Isabel Rawlins, Colton Reese, Jayme Rethman, Alayna, Rindler Renee Rindler, Collin Rismiller Joseph Ruhenkamp Alysse Schweitzer Asheleigh Shimp, Noah Shimp, Jason Simons, Cainan Sink, Hayley Smith, Lucas Sperati, Austin Spradlin, Henry Stammen, Teresa Stammen, William Steinbrunner, Connor Stonebraker, Ethan Stover, Jenna Treon, Keely Tucker, Grace Voisard, Hannah Voisard, Lauren Wietholter, Luke Winner, Reagan Winner, Kylee Wogoman. Not Pictured: Kaden Rose.
Congrats again to the class of 2023!