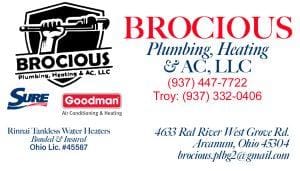 GREENVILLE– Cheryl Bulcher has led an interesting life and has been through a lot of ups and downs over the years, but, she has persevered and takes it out in her art studio.
She has been interested in art since she was a pre-teen, at age 11 or 12.
"I learned how to paint," she said. "My parents sent me to the Art Guild in Greenville, where I worked in oil. I dabbled in it for a little bit but didn't do anything for five or six years."
The mother of two stepchildren and two children (Tammy, Johnny, Adam, and Jeremy Lower) from a previous marriage is now wed to Charlie Bulcher, to whom she was married 30-plus years ago.
In chronological order, she has born in Troy and lived in Greenville, South Bend, Ind., Troy, Dyke, Va., Ohio, Florida, and now back in Ohio.
"I had my children and went to Edison State and, in Virginia, went to college for business courses and book art classes there.
"I took a nude model class, but it was fun. I was objective," said Bulcher, who used charcoal, pencil, sketching, drawing, and shadowing in that class. "It is easy for me to draw people."
She is a 1974 graduate of Greenville High School, after which she received a college degree in office administration/business.
"I was a paralegal for three years for Brown and Marchal. Then, I was a sales rep for Kesco Products," she reported. "I also worked for the Greenville Inn, doing accounting and bookkeeping, and have done a lot of cooking in my life."
She was adopted at the age of 5 1/2 from the Darke County Children's Home. Her adoptive parents were John and Joan Tester, who adopted another girl, 2-year-old Rebecca, several years later when Cheryl was 8.
Because her mother was from England, the two girls and their mother traveled there a lot. The Testers, both deceased, had subsequently divorced, and Joan married Brook Stickel.
"I only remember the Children's Home because of its bathroom and everyone all lined up in a row," she said. "That is my only memory."
She had the opportunity to meet her natural siblings when she was 22.
"I was a senior in high school when my adoptive aunt, Marjorie Flaig, asked if I ever wanted to see my real family, and I said 'No, end of conversation,'" remarked 67-year-old Cheryl. "A couple of years later, I went to Pizza Hut after a game, and there was a cute guy there. I was 32 then. I called my aunt, Marjorie, and she said I had a brother, Bob. It was my brother there. He knew me. Marjorie was my dad's sister. She called Bob's sister-in-law, who lived in New Madison. Bob told me I had two sisters, Lurainna Bosley, and Bonnie Hall."
Her brother, who lived in Brookville, is now deceased.
Her biological parents were Bob and Gretta Hebb.
Bulcher met her natural father, Bob Ebb, in southern Ohio around 35 years ago.
"He is deceased now and had emphysema," according to her.
She said, like her, her brother Bob was artistic.
"He was sick," she said. "It's amazing what someone can do in pencil drawing. He passed away after that."
Of her two sisters, one is crafty but not in artworks, but in crocheting, needlepoint, and quilting.
"I crocheted one thing and took it to the fair and won an award," Cheryl remembered. "Mother taught me how to knit."
She is not afraid to take on any project.
"My biological aunt kept a picture of me in a diaper sitting at a table with a pencil in my hand…amazing. I was meant to be an artist," she said.
Cheryl stopped working on her art for a while until six years ago, when good friend, Sandy Stewart, opened a shop known as the Iron Key for antiques and collectibles.
"Sandy allowed me to bring my open art," she said. "She was very encouraging."
Stewart's friend, Dwight "Bufford" Edwards, former Darke County game warden, was also good with art.
"His pencil drawings are amazing," Cheryl said. "I kept after him. He has talent."
At that locale, Bulcher said she did a painting of Bear's Mill on the sidewalk and got some notoriety there.
"I got $85 for it," she said. "It was an acrylic paint."
That business changed, and it was shut down, so Bulcher moved to Florida, leaving some of her items for Stewart to sell for her.
After the Bulchers moved to Florida six years ago, she did some craft shows at the park where they resided once a month for five years. She learned to do crayon, porcelain, paint in glass, wood, concrete, and canvas…" just about any medium you can think of."
Sept. 28, 2022, was a fateful day for them and other Floridians, for that is when Hurricane Ira wreaked havoc on properties and lives in that area.
That's when her world was turned upside down, literally.
"We lost everything," Cheryl said. "We were living there permanently at the time but had been going to the park for 25 years in the interim."
When they learned the hurricane was headed toward their area in Florida, her daughter contacted them to come to her place, a studio apartment, several minutes away, and they did.
"When we went back, we had nowhere to put what stuff we saved," Cheryl said. "I grabbed things of importance and my adoption book box. I did grab my artwork. Some people got washed out of their homes down there."
According to her, there were 1200 units in the park, and there were a lot of activities there.
"I had started a craft show and craft club," she said. "I was getting ready for a show when the hurricane hit."
Soon after, they returned to Ohio and lived again in Greenville.
She started up in crafting once more after they moved back. Her first show was the one at Masonic Temple last spring, and this week she will be taking her items to the Annie Oakley Festival in the south end at the Darke County Fairgrounds. She's excited.
Bulcher can draw practically anything.
Before her marriage to Charlie, she took an art class from local artist Nancy Foureman and did two pieces in charcoal.
"For 15 or 20 years, I did photography and won a bunch of ribbons at the fair. I had a 35mm camera at the time," she said.
She was also creative in that medium.
"My husband says I see things differently," she said. "I see an object and know what I want to do with it."
She noted that she tried working cut glass but didn't like it.
"I have to see progress before I  move forward," Cheryl stated.
That didn't do it for her, and just like oils, she did not like working with cut glass.
"I had four projects going on the other day," she said. "I got equipment to deal with it. I watch YouTube for techniques. You live and learn."
She even worked on a frog recently, getting a graphic picture after getting on her phone and googling.
"It involved some screenshot and print," said Cheryl, who does a lot of work with wooden TV trays and adds some of her paintings on each tray. "I either buy them, or they are given to me. I take the back off and tape behind it and then take them off the base. After that, I put epoxy on for 30-plus hours, You have to learn. I feel more confident as I've gone on. I like to dabble in a lot of things."
She is even working on a Mandala (Sanskrit for "circle"), which, according to one source, is an artistic representation of higher thought and deeper meaning given as a geometric symbol used in spiritual, emotional, or psychological work to focus one's attention.
"Once I get a piece, I feel what I want to do with it. I have done starfish, shells, clocks, and vases. Some things I do out of my head. I never sit down," she said.
How did she meet Charlie?
"My father had Kesco Products and wanted to give me the business, and I said no," Cheryl said. "He then sold it to Rick and Marlene Reed, and then subsequently, it was purchased by Charlie. I moved back to Greenville, and Dad told me about Charlie. I had a fiance in Virginia, and he stayed there. The first day I moved back here across from Kesco, Charlie knew who I was and would speak to me. He lived in the apartment behind me."
She ended up, however, marrying her fiance, but that union lasted two years. So, she returned to Greenville, and, like they say, the rest is history.
Cheryl did say she inherited her mother's house in Greenville as well as her wedding ring.
Charlie was also given her little red Fiesta.
Another artist in the family is her granddaughter, Ariel Meece, who recently painted the wedding gown with acrylics and will be wearing it in her upcoming wedding.
"She has a website called Art Micetro," said the proud grandmother.