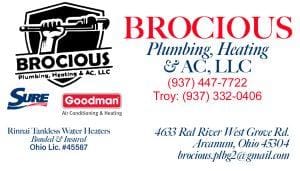 GREENVILLE– Two Versailles High School students were selected to serve as the top royalty at the Darke County Junior Fair King and Queen Pageant, held Tuesday night at the Radiant Lighthouse Church on Sebring-Warner Road off of U.S. Route 127 south of here.
Selected by the four judges, who were all from Auglaize  County, were Elizabeth Brewer as queen and Andrew Wuebker as king.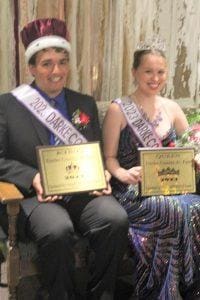 Elizabeth, the 17-year-old daughter of Shaun and Jill Brewer, represented Versailles Busy Beavers 4-H Club in the competition, and Wuebker, 16, the son of Alan and Sarah Wuebker, was sponsored by the Versailles FFA.
First runners-up in the contests were Gracelynn Harter, 18, daughter of Jeremy and Krista Francis, and representing the Darke County Junior Fairboard, and Carson Heitkamp, 17, son of Brian and Mechelle Heitkamp, sponsored by the Canine Capers 4-H Club.
Second runners-up were Madison Werner, 18, daughter of Marla Werner, a delegate of the Trails and Tails 4-H Club; and Cooper Bucklew, 17-year-old son of Adam Bucklew and the late Karen Bucklew and a representative for the Rabbit Habbit 4-H Club.
Third runners-up were Sophia Aultman, 16, and the daughter of Matt and Morgan Aultman, representing the Darke County Holstein 4-H Club; and Daxton Harter, 16, son of Jeremy and Krista Francis and sponsored by the Darke County Junior Fairboard.
Additional candidates in the fair queen competitions were: Katelynne Michael, 16, whose parents are Chris and Jodi Michael, and a delegate for the Show Hoppers 4-H Club; Alannah Sullivan, 16-year-old daughter of Jennifer Smith and Jimmy Smith, representing Trails and Tails 4-H Club; and Megan Wood, 16, daughter of Mike and Christina Wood, and a delegate for the Odds N Ends 4-H Club.
The candidates were each given a question to answer from the 2022 top royalty, Queen Mariah Kreusch and King Jayden Hicks, in Round 1 of the competition, which was followed by an intermission.
Then, after viewing a year-in-review slide show, the contenders were each asked one additional question from the judges.
Scoring was based on activities, poise and personality, personal appearance, and essay.
Before the program ended, the 2022 royalty was introduced and spoke a little about their experiences in the past year.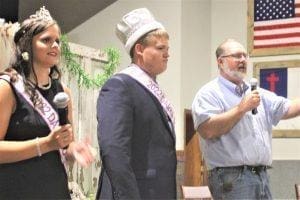 Then, former royalty in the audience came forward and was asked to advise others on why they should get involved in the royalty program. They were Alan Wuebker, king in 1991; Matt Aultman, king in 1999; Kyle Wuebker in 2018; Tori Wuebker in 2019; and Alisha Rismiller, queen in 2020.
Elizabeth Brewer and Andrew Wuebker were thankful for being chosen at this year's pageant.
Neither one of them competed in the pageant before.
She is a senior, and he is a junior at Versailles. For the most part, they are involved in the same activities at school, including theater, band, French club, and even the Towne and Country Players.
She is also a member of the National Honor Society, art club, the academic team, and the Hope Squad.
"I'm in everything," Wuebker said.
During fair week, however, she is involved more in non-livestock projects, while he works with dairy market and steers, but indicated he also has some non-livestock interests.
The Great Darke County Fair is slated for Aug. 18-26.