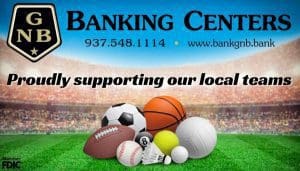 ARCANUM – The Bradford Railroaders earned a 50-47 conference win over the Arcanum Trojans in a Tuesday night WOAC matchup.
"Our three big fellows went at it tonight," said Bradford coach, Jay Hall. "The boys executed the plan."
"I give Bradford all the credit," Arcanum coach, Roger McEldowney said. "They had a good game plan, played hard. We just didn't shoot it very well early on and dug ourselves too big a hole to get out of."
Arcanum took a slim 1-point 11-10 lead after one quarter of play with Nick Sharritts knocking down three buckets in the lane for 6-point to pace the Trojans.
Bradford took period No. 2 by a double digit 15-10 score with Hudson Hill canning two Bradford 3-pointer sending the teams to the break with the Roaders leading 25-16.
"Each practice we're getting a little more comfortable without Parker (Davidson) and understand it's still basketball and we should know what to do," Coach Hall stated.
Arcanum still found scoring difficult in the third period with Bradford taking the quarter 12-8 extending its lead to 37-24 after three complete with Owen Canon adding 6 Roaders points to the board including a trey.
Arcanum made a close game of it outscoring the visitors 23-13 in the fourth only to come up short with Bradford knocking down 9-of-17 fourth quarter free throws to earn the win.
"I give my guys credit, we hung in there," Hall said. "It's hard to duplicate that when you're going up against a group of nine or 10 and you've got six."
"We have to keep working, try to get better," said Coach McEldowney. "We were kind of behind the 8 ball today and never really got a chance to catch up. We were kind of scrambling at the end so today it's just digging too big a hole to get out of."
Bradford sophomore guard, Owen Canan led Bradford and all scorers with a game high 19-points.
BOXSCORE:
BRADFORD 50, ARCANUM 47
BRADFORD – O. Canan 19, H. Hill 10, L. Wills 8, Z. Harleman 5, L. Monnin 4, T. Miller 4 – TOTALS 9 17-28 5 50
ARCANUM – G. Garno 14, N. Sharritts 13, B. Lock 11, R. Christ 4, B. Sharp 3 – TOTALS 16 6-10 3 47
3-POINTERS
Bradford 5 (O. Canan 3, H. Hill 2)
Arcanum 3 (G. Garno 2, B. Sharp 1)
SCORE by QUARTERS
10-15-12-13 50 Bradford
11-05-08-23 47 Arcanum