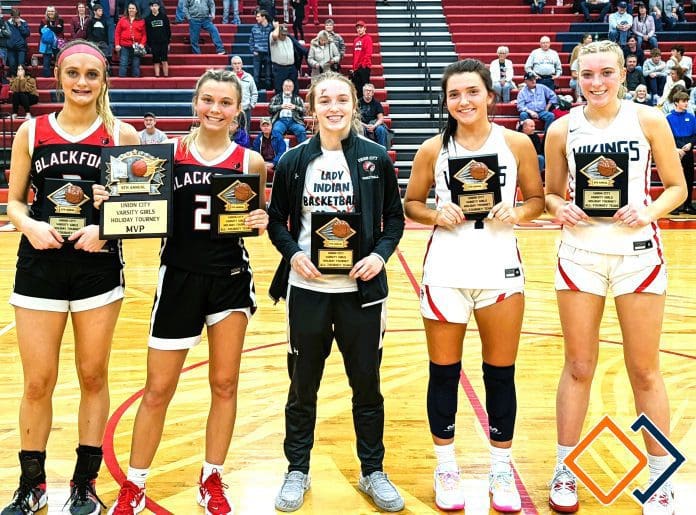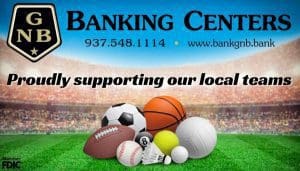 UNION CITY, IN – Blackford defeated Blue River 68-58 in the 9th Annual Union City Girls Holiday Tourney to take home the Championship trophy.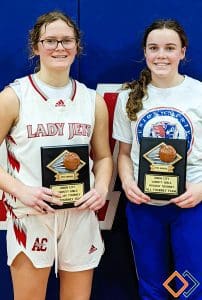 Union City defeated Greenwood Christian 49-22 in the opening round along with Blue River Valley downing Adams Central 44-24; Blackford 62-32 over Purdue Polytechnic and Fort Wayne Blackhawks over Union County 47-39 to close out first round action.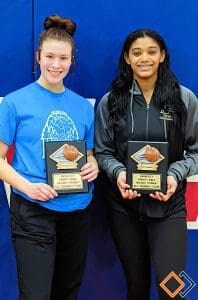 In round one of the losers bracket Greenwood Christian was eliminated with a 54-15 loss to Adams Central and Purdue Polytechnic was bounced from tournament play in a 50-43 loss to Union County.
Blue River Valley defeated Union City 57-36 in the winner's bracket, Blackford knocked off Fort Wayne Blackhawks 56-46 and Union County defeated Adams Central 42-28.
Purdue Polytechnic downed Greenwood 49-29 for 7th place, Fort Wayne Blackhawk defeated Union City 41-24 to finish third and Blackford defeated Blue River Valley 68-58 in the championship game.
Union City Girls Holiday Tourney 2022 All Tourney Team:
Tourney MVP: Olivia Lease, senior | Blackford High School
Sydney Waldron, junior | Greenwood Christian
Ajacia Griffith, senior | Purdue Polytechnic
Gracie Garwood, senior | Adams Central
Katie McCashland, sophomore | Union County
Oaklee Reichard, sophomore | Union City
Allie Boyer, junior | Fort Wayne Blackhawk
Maci Chamberlin, senior | Blue River Valley
Maciah Driskill, junior | Blue River Valley
Olivia Leas, senior | Blackford
Olivia Waters, senior | Blackford