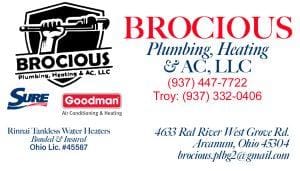 GREENVILLE–Bob Bitner, a retired chaplain from the Brethren Home (now known as Brethren  Retirement Community) and founder and previous owner of Countryside Bike Shop on South Broadway in Greenville, competed in the National Senior Games, previously known as Olympics, this past week in Pittsburgh, Pa.
He wasn't a big winner, but he finished in all of the contests. And, he's satisfied. In fact, he is contemplating qualifying in 2025 for the next event, which will be held in Des Moines, Iowa.
During this year's games, Melissa Brawley, also of the Greenville area, sent back his results.
In the 5k, Bob placed 11th out of 25 with a time of 8:52; in the 10K, tenth out of 23 with a time of 15:52; in the 20K, 17th out of 24 with a time of 33:49 and in the 40K, 16th with a time of 22 with a time of 1:16:24.
"In the 40k, he crashed, trying to avoid an accident in front of him," wrote Brawley, a Bitner family friend. "He wasn't hurt badly and went on to finish the race. He would have finished with the front pack but stayed with the injured rider until he knew help was on the way."
Bob's daughter, Chrissy Coppock, had also written on Facebook: "Made it to Pittsburgh, Pa., to support my dad in cycling in the National Senior Games (Olympics). He had his first race today, which was a 5k Sprint race which he did amazing. He hasn't really ever done sprints much before trying out for the Olympics. He placed 11th with a time of 8:52 and averaged 21 mph. He just turned 77 years old on Wednesday (July 12), and he makes me so proud. Tomorrow, he has a 10k race that I'm excited I get to cheer him on at."
Granddaughter Tiffany Martin had this to say: "The last five days, the boys and I went to Pittsburgh to support and cheer on Grandpa. I am at a complete loss of words with how proud I am of him! He beat himself up over a few finishes thinking he should have done better. But he is 77 years young and competed with professional riders. In the 40k, Grandpa crashed trying to avoid an accident in front of him. Thank God he is okay and finished the race, but what amazes me most out of this is that he stayed behind and made sure the guy was okay and waited to make sure a squad was coming. My grandpa is amazing. 2025 senior games better watch out because Bob Bitner is coming for you!"
Bitner said it was the new owner of his bike shop Scott Farver, who encouraged him to participate in these National Senior Games this year.
"A year ago last spring, Scott pressured me to get into it," Bitner said. "I checked into it to see what it was about. I needed to go to a state Olympics to qualify for the National Senior Games. It was too late to go to the Ohio State Olympics, so I ended up going to Michigan last August."
The National Games, he said, are held every three years, and the even years is the time to qualify. However, he did note there were National Games last year in Fort Lauderdale, Fla., because of Covid.
His wife Diana went with him to Michigan for the games, but most of the family ended up coming up to see him in action.
"There were four different races over two days, and I qualified for all four," he said.
He became interested in bikes when a pastor friend of his invited him 30 years ago or more to go on a 25-mile route tour at the Piqua Heritage Festival.
"I used my daughter's bike, an old 10-speed," he recalled. "I saw all the other bikes and ended up getting a regular road bike. And, it grew from there. I got into racing eight or 10 years ago and didn't do well."
Then, he did an Endurance ride across Indiana known as the Rain Ride. It was 160 miles.
"I want to compete in that one more time."
He enjoyed riding with friends, who included Gary and (the late) Michele Cohee, and did more of that kind of riding instead of the Rain Rides.
"The National Senior Games is racing. I didn't bring any trophies or medals home. In the time trials, it's you against the clock on aerodynamic bikes. My bike is not considered a time-trial bike, but I did better in the time trials."
He said in the National Games, there are four races over five days. July 13 and 14 were the time trials, and July 16 and 17 were the road races.
"We arrived in Pennsylvania on July 11 to get registered and try to check out the courses," he said. "The races are at different places with different courses."
He said his goal for the time trials was to come out finishing in the top half of his age group.
One of the races took place in downtown Pittsburgh on the interstate in a closed-off area.
"I thought I would do better," he said. "My inexperience caught up with me."
He will probably never forget the crash and said the man who was injured was from Germantown, Ohio.
Binter was given different numbers during his competition. His bib numbers were 3025, 4023, 5027, and 6024.
Day by day, family members arrived to watch him compete. But, not all were able to attend.
Because it was his birthday, everybody wore a t-shirt bearing the number "77" on the backs of the shirts reflecting his age, made by his wife and daughter.
His wife, the former Diana Stephens, graduated from Gettysburg High School.
They are the parents of four children, Michael of Sidney, Denise of Washington State, Tammy McFadden of Clarke County, and Chrissy Coppock of Texas. There are four grandchildren and six great-grandchildren.
"I feel passionate about the guy from Connecticut who finished second in both road races who came up to me and wanted a picture of us," Bitner said. "He said what I had in family support was more important than the medal he got. Yes, I feel very, very blessed."
Bitner talked about another man, a 95-year-old whom he said set a record this year.
"He was the oldest person to finish the 20k road race," he said. "He got a gold medal."
Bob said he tries to ride his bike locally, depending on his schedule.
He indicated his favorite route is to travel to Hollansburg and the hills in the area before heading back home. He takes back roads, except for a little bit when he travels State Route 571 and U.S.36, a very short distance toward Hollansburg.
His wife Diana doesn't do any biking.
"She gave up a lot so I could train for Pennsylvania," said Bitner, a graduate of Franklin Monroe High School.
The couple, who were married in 1965, met at the Bradford Pumpkin Show.
"Dad bought me my first bike off of a neighbor for 10 bucks," Bitner remembered. "It was too big for me. It was like an old cruiser."
He said his last two bikes had electronic shifting and that he rode his Madone Trek bike in Pennsylvania. It is a lightweight fiber road bike.
Well, since Farver encouraged Bitner to compete in these National Senior Games, would he consider doing it?
"I have quite a few years to go," said the soon-to-be 45-year-old, with a smile on his face. "I may do it for bowling, but not biking."
Bitner still comes into the shop three days a week to help out Farver. He started the bike shop in 2009, opening it part-time until he retired from the Brethren Home 12 years ago, after which he opened it full-time.
He is an ordained minister, serving three churches before he went to the Brethren's Home. He is now involved with the Oakland Church of the Brethren, is on its minister team, and is a minister of pastoral care.
The 2023 National Senior Games were held July 7-18 in western Pennsylvania. An estimated 500 cyclists were expected for the 20-kilometer road race on July 16 and the 40k race on July 17.
Held since 1987, the National Senior Games are a 20-sport, biennial competition for men and women 50 and older. Pittsburgh hosted them once before in 2005, according to their website.