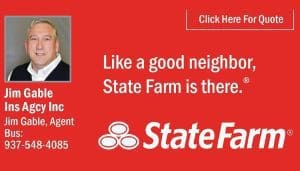 DARKE COUNTY— The My County Link Athletes of the Week for the week of Oct. 28, 2022 are Tri-Village seniors Seth Cook, defensive/offensive end with the Patriots varsity football team, and Shelby Mintekenbaugh, setter with the Lady Patriots.
Cook had a spectacular season so far with 94 tackles and 29 tackles for losses. He leads the WOAC in sacks with 11 has forced a fumble, has an interception and 25 pancake blocks this season.
Mintekenbaugh was fourth in the league in assists for the year, with 610. She also had 185 digs this season for the 15-10 Patriots who lost to Versailles in the District Semi-Finals in Volleyball.
My County Link chooses two stand out high school athletes from the Darke County schools each week. We will consider insight and recommendations from coaches and staff.