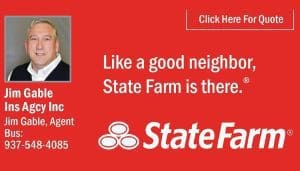 DARKE COUNTY—The My County Link Athletes of the Week for the week of March 3, are Kynnedi Hager and Camden Cook.
Hager, a 6'3" freshman post player with the Tri-Village Lady Patriots Basketball team, averages 8.1 points per game and 5.9 rebounds a game. The Lady Patriots will get the chance to play for a state title on Saturday setting up a rematch with 23-4 Toledo Christian, who they previously beat 50-35 at the prestigious "Classic in the Country" on Berlin Hiland's floor.
Cook, 6'6" Senior Center with the Tri-Village Basketball team, averaged 4.5 rebounds a game. Cook and the team recently ended the season 21-6 overall 10-1 in conference, 2nd place in WOAC, Sectional and District Champions and Regional-Semi-Finalist.
My County Link chooses two stand out high school athletes from the Darke County schools each week. We consider insight and recommendations from coaches and staff.