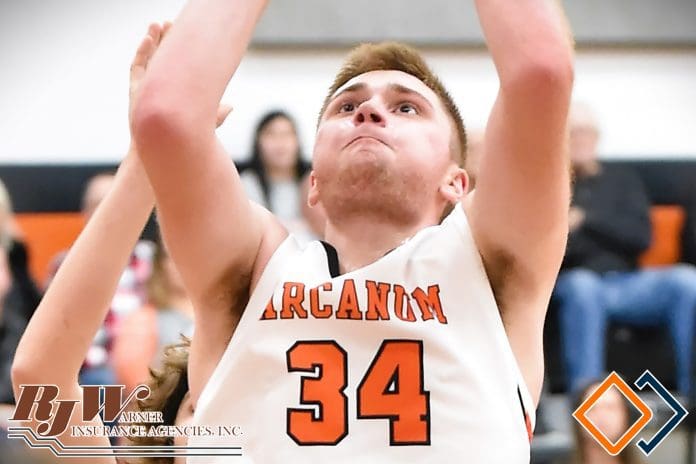 ARCANUM – The Arcanum Trojans defeated the Greenville Green Wave 56-38 to open the 2022-23 OHSAA boys basketball season.
"They came out fired up tonight," said Arcanum coach, Roger McEldowney. "The focus was great, they took care of the ball for the most part – that's key for us. The defense was sound – that's where we have to play."
Greenville took the opening quarter 13-12 canning three treys, one each from Jarrod DeMange, Eric Brenner and Haden Livingston and two Chase Drew two-point basket to round out Wave scoring.
Arcanum battled back to take period No. 2 led by freshman Regan Christ's 8 points including two triples and six Nick Sharritts points to go along with his seven first quarter points sending the teams to the break with the home standing Trojans leading 26-21.
"It was good to see our freshman hit a couple shots early," said McEldowney. "He's going to be a big part of what we do."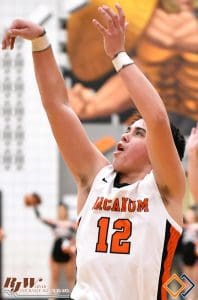 The Trojans extended its lead in third period play outscoring the visitors 17-11 with Sherritts adding 10 points to the board sending the teams to the final period of play with Arcanum holding a 43-32 double digit lead.
"Garrett Garno has been out with a foot injury, he's only practiced for a week so we're spotting him," Coach McEldowney noted. "Aiden Psczulkoski played good, Brady Lock got in a little bit of foul trouble which hurt us in the first half but he played a lot of minutes in the second half and did a really nice job. All of them across the board played really well and I am proud of them."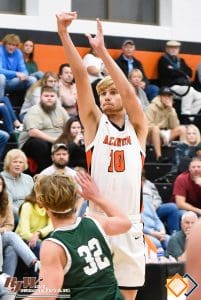 Arcanum put the game away in the final period with Sherritts accounting for 7-points in the Trojans 13-point fourth while limiting the Wave to 6-points giving Arcanum an 18 point non-conference victory.
"We did a pretty good job of staying in front of them and fighting through screens, contested a lot of shots," said McEldowney said. "I thought our defense was pretty good tonight and I felt we rebounded pretty well too."
Sharritts led Arcanum and all scorers with a game high 28 points in the win.
"Really nice job getting to him where he could score and he finished it," Coach McEldonwey said of his senior leader. "Obviously he's our best player coming back from last year and we're counting on him big time to put the ball in the basket for us."
"We knew it was going to be a challenge," Greenville coach, Matt Hamilton stated. "They're well coached and we knew he (Sharritts) was going to be a challenge inside and we had no answer."
BOXSCORE:
ARCANUM 56, GREENVILLE 38
ARCANUM – N. Sharritts 28, R. Christ 11, B. Sharp 9, B. Lock 4, R. Murray 2, C. Thompson 2 – TOTOAL 16 6-8 6 56
GREENVILLE – H. Livingston 12, J. DeMange 8, C. Drew 8, D. Hamilton 7, I Brenner 3 – TOTALS 11 1-4 5 38
3-POINTERS
Arcanum 6 (B. Sharp 3, R. Christ 3)
Greenville 5 (J. DeMange 2, H. Livingston 2, E. Brenner 1)
SCORE by QUARTERS
12-14-17-13 56 Arcanum
13-08-11-06 38 Greenville