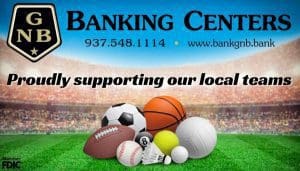 ARCANUM – All nine members of the Arcanum High School varsity gymnastics team recently attended the Elk Invitational at Centerville High School where they competed against 15 other teams from the Dayton and Northern Cincinnati area.
"This is our third consecutive year having a team," said Arcanum gymnastics coach, Katy Boston. "They are preparing for their next competition at the Win the Day Meet at Anderson High School on Feb 5."
Each competition requires four athletes scoring on each of the four events to constitute a team score. At the Elk Invite, Arcanum placed 10th out of 16 teams.
Arcanum top 30 finishers include:
Lydia Knepshield placing 2nd on vault with a 9.10, 15th  on bars, 6th on floor and a very respectable 7th in the all-around.
Taelen Unger placed 30th on bars and 17th on floor.
Arcanum gymnastics began in 2013 with 2 members competing as Individuals. The team has grown to its current size over the years. They train together at Gem City Gymnastics in Tipp City with teams from Troy and Northmont and individuals from Miami East and Kenton Ridge.
February brings a competition every weekend leading up to the state competition the first weekend of March. Arcanum had their first state competitor, Arianne Garrison on balance beam, last season. They are coached by Katy Boston and look forward to the end of a successful season.
Arcanum High School Gymnastics Team
Arianne Garrision – junior 3rd year varsity gymnast
Taelen Unger – junior 3rd year varsity gymnast
Lydia Knepshield – 1st year junior
Kaitlynn Lipps – 1st year junior
Sohpie Drew – 1st year freshman
Kenidie Hensely – 1st year freshman
Shyanna Cunningham – 1st year freshman
Alexis Swiger – 1st year freshman
Brooklyn Kreusch – 1st year freshman