SIDNEY – The Ansonia Lady Tigers watched a 9-point third quarter lead slip away in an opening round OHSAA DIV tournament game in a 46-43 loss to the Troy Christian Lady Eagles.
"It was a tough game," said Ansonia coach, Joey Schmitmeyer. "We knew it was going to be a battle the way the score showed. We had an idea it was going to be a dogfight going into it. Good luck to their program and I hope they continue to have success."
The teams struggled to get on the board in the opening five minutes of the game with Troy Christian denting the board at 2:46 to lead 2-0. The Lady Tigers took advantage of an Avalyn Locke free throw at 2:08 to get in the book for a 2-1 first quarter score. The Lady Eagles took the opening quarter by and 7-6 count.
Troy Christian took the second quarter 17-15 sending the teams to the break with Ansonia trailing 24-21.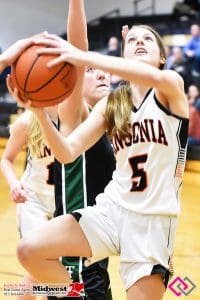 Period No. 3 had Ansonia outscoring the Lady Eagles by a double digit 15-5 score and lead 33-24 with 0:43 on the second quarter clock before settling on 36-29 lead with a quarter to play.
Troy Christian battled back to knot the score at 40-40 with 4:23 on the fourth quarter board. Ansonia got the lead back at 43-42 with 1:22 remaining in the game before the Lady Eagles would use the free throw line to earn the win and advance in tournament play.
The charity stripe was the big difference in the game with Troy Christian going 18-34 at the line while Ansonia was just 3-9.
"We try hard not to make any excuses whether it be reffing or any other thing like that," Schmitmeyer stated. "We try to own all of our own mistakes but we found it very challenging to find out how we can play and not get into so many fouls with what we went through tonight."
The Ansonia Lady Tigers took the court without any seniors, two juniors with the balance of the team coming from the sophomore and freshman classes.
"We're a young team, some stuff to build on, we take this and try to turn it into motivation to get better for next year," said Schmitmeyer. "We have two juniors so we get to bring everybody back, so that's promising. Maybe a couple other people coming back and a solid eighth grade coming up to help out."
BOXSCORE:
TROY CHRISTIAN – B. Lavey 12, R. Orange 12, J. Hill 8, R. Wilkins 7, K. Johnson 4, J. Myers 2, K. Miller 1 – TOTALS 9 18-34 3 46
ANSONIA – O. Creager 12, Brenna Schmit 11, A. Locke 8, B. Burk 6, G. Leeper 2, R. Barga 2, L. Kaiser 2 – TOTALS 17 3-9 2 43
3-POINTERS
Troy Christian 3 (R. Orange 2, J. Hill 1)
Ansonia 2 (Brenna Schmit 1, O. Creager 1)
SCORE by QUARTERS
07-17-05-17 46 Troy Christian
06-15-15-07 43 Ansonia