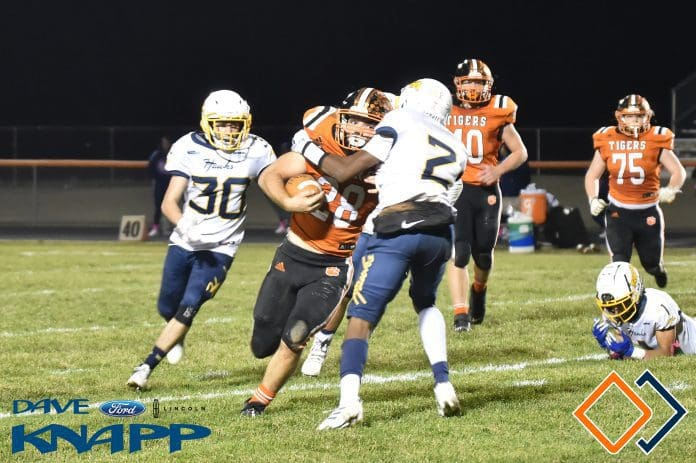 ANSONIA – The Ansonia Tigers wasted little time advancing in opening round OHSAA DVII football playoffs with a 67-0 win over the Cincinnati Riverview East Academy Hawks.
"We made some mistake early on," said Ansonia coach, Adam Hall. "We were not as smooth as we are all the time but we got it ironed out. Halfway through the first quarter on we were rolling pretty good.    Defense played great tonight."
The Tigers got on the board at 9:26 in the opening quarter with Keegen Weiss scoring on a 2-yard run and Exzaviar Moody making good on the 2-point conversion run giving Ansonia an 8-0 lead.
The Tigers defense added a 2-point safety at 8:25 and got a 10-yard Moody touchdown run at 4:40 with Weiss running for a 2-point conversion giving Ansonia an 18-0 lead.
It took just six seconds for the Tigers to go back on offense taking advantage of a Hawks fumble on the ensuing kickoff.
Moody scampered 17-yards at 2:39 giving Ansonia a 24-0 lead where the score would stand after one period of play.
The Tigers greeted Riverview with a Moody 16-yard touchdown run on the first play of the second quarter only to have the score called back due to an Ansonia block in the back.
Ansonia came right back with a Moody touchdown run and a Weiss 2-point conversion run to make it a 32-0 score with 11:40 on the second quarter clock.
Facing a fourth and long, Riverview went to the air only to have Weiss intercept the Hawks pass setting up a Garrett Stammen 6-yard touchdown run at 10:04 for a 38-0 Ansonia lead.
The Tigers continued to pile up points against the 3-7 Hawks with an Ian Schmitmeyer connection to Trevor Hemmerich for a 27-yard touchdown strike. Weiss carried for the 2-point conversion giving Ansonia 46-0 advantage at 6:37 in the second.
In less three minutes Schmitmeyer hit Weiss with a 4-yard touchdown strike through the air and Stammen making good on the 2-point conversion run giving Ansonia a 54-0 lead at the 3:55 second quarter mark.
Ansonia's Kaiden Edwards intercepted a Hawks pass setting up a Wyatt Spencer 2-yard TD run. Kaeden Waymire split the uprights making good on the PAT kick for a 61-0 lead bringing an end to the entire starting unit's night on the field at 1:27 in the second quarter.
"Our JV has played a lot this year, they played a full JV schedule," Hall stated. "We have a ton of guys and we've seen the improvement they've made this year. We're expecting that to pay off down the road for us."
The coaches and officials agreed to cut the second half quarters from 12 minutes to eight minutes including a running clock that was in play in the later part of the second quarter.
"They had guys injured, they were running low on guys so we had to shorten it," said Coach Hall.
Zane Henderson intercepted a Hawks pass a 3:10 in the fourth and Landon Drees scored on a 17-yard touchdown run at 1:45 for a 67-0 Ansonia Lead. With a Hawks player injured on the play, the clock ran out without the Tigers attempting a point after touchdown attempt.
"It takes everybody," Coach Hall said of the team win. "Even sometimes when young guys don't get to play, they help us in practice, they get us ready to play. Sometimes it's hard to make that connection when your young but they're a part of every win."
The Tigers accounted for 257-rushing yards and seven touchdowns. Moody ran for 140 yards and 3-TDs; Weiss 45-yards and 1-TD; Stammen 27-yards and 1-TD; Drees 17-yards and 1-TD, Ben Barnt 17-yards; and Spencer 2-yards and a TD.
Schmitmeyer was a perfect 3-3 through the air good for 29-yards and 2-touchdowns, one each to Weiss and Hemmerich.
A total of 23 Tigers got a tackle or more in the win with Zane Henderson leading with 5-tackles and Trendon Spence, Ethan Reichert and Weiss each with 4-tackles.
Ansonia will entertain Springfield Catholic Central, 33-0 winners over Bernard Elmwood Place. Central brings an 7-4 record to Ansonia this Friday night for the 7 p.m. round two playoff game.
"We know it will be a tougher game," Coach Hall said. "It will be a challenge for us. We have to get ready for it."