ANSONIA – The Ansonia Lady Tigers defeated the visiting Bradford Lady Railroaders 45-14 in Thursday night WOAC action after an early season Ansonia coaching change at the varsity and JV levels.
"Just super proud – our effort," said Ansonia coach, Joey Schmitmeyer. "It's an emotional win for us. They've been through a lot of adversity (coaching change) and just so proud of our girls for sticking together and working real hard. It's a testament to them."
"I want to thank the whole Tiger Family here at Ansonia," continued Schmitmeyer. "We couldn't do it without our superintendent, PJ Burgett, our AD, Clay George and Jim Robson our principal. Catey Fischer has just been huge for her knowledge and her help. We're just a family, it's no one person, it's everybody working together and glad they got the win tonight."
The Lady Tigers took an early 12-4 lead after one period of play with Bailey Schmit drilling a 3-pointer and a free throw, Brenna Schmit canning a triple and Avalyn Locke and Addie Marker each adding a 2 point basket.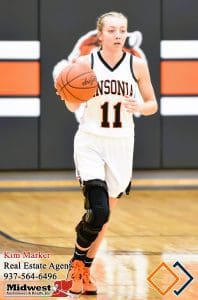 Period No. 2 went to Ansonia with the defense holding the Lady Roaders to two free throws while the offense was taking advantage of six Gabby Leeper points, Bella Burk with 4 points and Bailey Schmit with a basket to lead 23-6 at the break.
"It's a big adjustment when you haven't played at this level especially in our conference, it's a good conference," said first year Bradford coach, Josh Siedling. "I'm proud of the way even if adversity comes we fight through it. I have seen big improvements from day one. There are a lot of positives we're going to grow on, it's a new team, it's a new Bradford so it's a process and we're going to trust it."
Ansonia upped its lead to 33-11 after three periods of play with Leeper accounting for 4-points in the quarter.
The final eight minutes of play had the Lady Tigers continue with balanced scoring knocking down 12 points with Rose Barga scoring 4 points.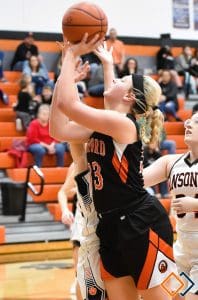 "We come out and pressed a little bit," Schmitmeyer stated. "We're good, we're not a big team, we don't have big seasoned posts, we really just have forwards. We don't have a true center so we have to look to be fast and use what strengths we do have and do what we are good at."
"It's all about getting better than we were yesterday," said Coach Siedling. "We are trying to take it possession and possession at a time. We set end game goals individually, setting game goals as a team, win rebound battles, turnovers, assists. It's a learning curve. It'll come, it's just getting the consistency down right now."
Leeper led Ansonia and all scorers with a game high 12 points.
BOXSCORE
ANSONIA 45, BRADFORD 14
ANSONIA – G. Leeper 12, Bailey Schmit 8, Brenna Schmit 7, A. Marker 6, R. Barga 4, B. Burk 4, O. Creager 2, A. Locke 2 – TOTALS 17 5-8 2 45
BRADFORD – B. Crickmore 4, I. Hamilton 3, A. Helman 3, R. Dotson 3, D. Lavey 1 – TOTALS 3 2-5 2 14
3-POINTERS
Ansonia 2 (Brenna Schmit 1, Bailey Schmit 1)
Bradford 2 (J. Hamilton 1, A. Helman 1)
SCORE by QUARTERS
11-12-10-12 45 Ansonia
04-02-05-03 14 Bradford