GREENVILLE – The Ansonia Tigers took the New Bremen Cardinals to the wire while fighting snow, wind and cold in dropping a 26-22 OHSAA DVII round three playoff matchup.
"New Bremen is a good team, we knew that coming in," said Ansonia first year coach, Adam Hall. "Their quarterback is a very good player, we had trouble stopping him at times. Overall I'm really proud of the guys with the effort we played with tonight."
David Homan scored on a 57-yard quarterback keeper at 10:35 in the first quarter with Hunter Schaefer splitting the uprights on the PAR kick to give the Cardinals an early 7-0 lead.
Ansonia answered with an 18-play, 74-yard drive chewing up 10:24 on the game clock with Exzaviar Moody rushing for a 5-yard Tigers touchdown at 00:11 in the first. Moody gave the Tigers an 8-7 lead making good on the 2-point conversion run.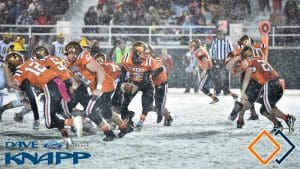 New Bremen battle back with a Schaefer 21-yard touchdown and made good on his PAT kick to give the Cardinals a 14-8 advantage at 8:25 in the second quarter. The 9-play TD drive used up 3:46 on the scoring drive.
Ansonia took the second half opening kick and engineered a 17-play, 80-yard 11:07 scoring drive with Ian Schmitmeyer scoring on a 1-yard quarterback keeper. Weiss carried for a 2-point conversion run giving Ansonia a 16-14 lead at 00:53 in the third.
"We were down at half, came out got back with the lead," Coach Hall said. "From the way we played all year, we just keep fighting. You can't say enough good things about the guys that we have on this team."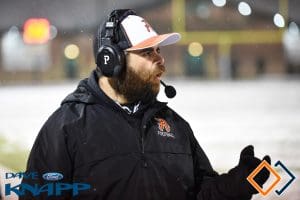 New Bremen regained the lead with Schaefer scoring on a 5-yard third quarter Cardinals TD run at 8:33 in the fourth. The Ansonia defense kept New Bremen out of the end zone on its 2-point pass conversion attempt giving the Cardinals a 20-16 lead.
Ansonia grabbed a 22-20 lead at 5:44 in the fourth on a 5-play, 58-yard drive with Moody racing for a 34-yard touchdown run. The Tigers lead stood at 2-points with a failed 2-point conversion attempt.
New Bremen answered with a 12-play, 73-yard scoring drive with 00:51 remaining on the fourth quarter clock to give the Cardinals the win.
"Our seniors – I hate that it is over for them because they are such a good group," Coach Hall stated.    "Our whole team has worked great all year. It's been the best year that I could have asked for."
Ansonia Seniors playing their final football game for the Orange and Black include: No. 2, Ian Schmitmeyer; No. 3, Kadyn Edwards; No. 28, Exzaviar Moody; No. 55, Gabe Zumbrun; No. 56, Jason Stover; No. 63, Levi Gasper; No. 75, Eyan Hackler.
"Our seniors are great kids, they're great leaders, they're hard workers, they're good football players, they do everything you ask them to do as a coach and we wouldn't be where we're at if we didn't have those guys and I am proud of them," said Coach Hall. "I'm glad they were on the team this year and it just stinks that it ends like this."
First Downs:  New Bremen 15 | Ansonia 16
Rushes:  New Bremen 33/185 | Ansonia 48/217
Passing Yards:  New Bremen 109 | Ansonia 47
Passes – Attempts / Completed / Interceptions:  New Bremen 9/7/1 | Ansonia 10/3/0
Total Offense:  New Bremen 42/294 | Ansonia 58/264
Penalties:  New Bremen 7/60 | Ansonia 6/45
Possession Time:  New Bremen 17:33 | Ansonia 30:50
Ansonia Rushing:
Exzaviar Moody   36 Attempts, 175 yards, 2 TD
Keegen Weiss   9 Attempts, 38 yards
Ian Schmitmeyer   3 Attempts, 4 yards, 1 TD
Ansonia Passing:
Ian Schmitmeyer   10 Attempts, 3 Completions, 0 Interceptions
Ansonia Pass Receiving:
Trevor Hemmerich   2/30
Keegen Weiss   1/17
Ansonia Tackles:
Garrett Stammen   7.0
Keegen Weiss   6.0
Ian Schmitmeyer   5.0
Trevor Hemmerich   5.0