ARCANUN – Randy Stites is often seen riding his 1910 Single Engine Indian motorcycle around Arcanum and Darke County.
Stites, a 35 year Arcanum resident, originally from Belmont, OH found a gentlemen in Hanover, PA to build the replica 1910 Indian motorcycle for him.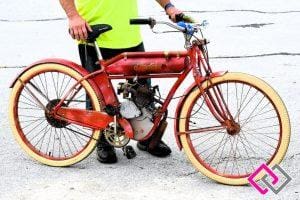 "I found a guy on the internet in Pennsylvania and he built it for me," Stites said. "I went to Pennsylvania and picked it up in a truck."
Stites has made the 481 mile one way trip to Hanover twice where he had the motorcycle built. "Way on the other side of Pennsylvania," he stated.
An original vintage 1910 Indian can bring anywhere from $150,000 – $300,000 according to Stites.
"I got the cheap model and I'm not afraid to ride it," he stated. "That's the fun part."
The 1910s were an era of technological innovations and advancements for Indian Motorcycle, including a leaf-spring front fork, automatic oil pump, 2-speed transmission, floorboards, starter hand cranks, a swing arm rear suspension design, the first electric start on a motorcycle, electric lights, the legendary 1000cc Powerplus engine, and the Indian Motorcycle script logo.
"It goes 25-30 MPH easy but not with me on it," Stites said with a chuckle. "I just rode it eight miles to get here (Arcanum). It's a blast – runs good."